 How to Get Natural Light to a Windowless Room in Delaware, Chester, and Montgomery County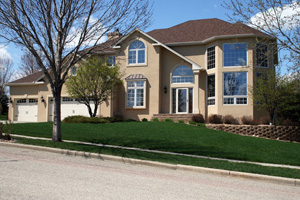 Many homes have windowless rooms. In some cases and with some people it doesn't matter a lot.  With others it is a frustration.  Builders make decisions about windows that are usually based on cost and design considerations.  But it is often possible to bring natural light to rooms that do not have Delaware, Chester, and Montgomery County windows.  Here are some ways to accomplish this goal.
1.         If there is an exterior wall in the room that does not have a window, there is a good chance you can add one.  This is the most obvious solution to the problem.  There are, however, some practical things to consider first:  Will you end up with a window over a tub/shower combination? How will you keep the window dry? How will you cover the window for privacy when showering?
2.         The second option that comes to mind for most people is to install a skylight or a roof window.  In some cases, this is a simple matter of cutting a hole in the room and the ceiling and installing the new Delaware, Chester, and Montgomery County window.  Flashing and sealing will be critical.  Sometimes it will be necessary to change the ceiling from a standard flat ceiling to a pitched ceiling that follows the line of the roof.  This will certainly add cost to the project, but it might be worth it to bring in natural sunlight. 
3.         A third option will be to add a "tube light" or "solar tunnel" to the room.  By cutting a smaller hole in the ceiling and running a tube or tunnel down into the windowless room, you can bring in natural sunlight.  This is a very affordable option in many cases. Even a relatively small opening can bring in a surprising amount of sunlight to brighten a room.
4.         The fourth option is to open up the windowless room to another room that has windows and brings in a lot of sunlight.  Doing this depends on the purpose of the room you are trying to light up.  If it is a bathroom, this might not be possible. You also might not want a bedroom opened up to another room. But if the room is not used often, or if you don't mind the room being open, you can open a large area that is fitted with doors that can be closed when necessary (such as double doors).  You could make this very attractive by using French doors or pocket doors. 
There are at least these four ways to bring natural light into a windowless room.  You will just need to think about how the room is used, how much you can afford to spend on Delaware, Chester, and Montgomery County windows, and what you think will work best in light of the way your family uses the room. 
If you live in Delaware, Chester, or Montgomery County and you're looking for professionally installed Replacement Windows, Doors, Vinyl Siding or a great Roofing Contractor, call Windows Plus today at 610-572-4733 or complete our online request form.